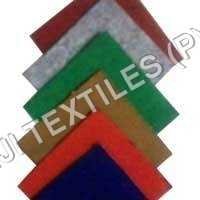 Non Woven Floor Carpet
Product Description
Non Woven Floor Carpet
Blessed and supported by the team of high skilled and talented personnel, our company is considered as one of the leading manufacturers & exporters of Non Woven Floor Carpet. This carpets are tested on various parameters to ensure their features such as moth proof quality and abrasion & stain resistant surface. Our offered range of non woven carpet is available in different colors to meet the requirement of the clients. Non Woven Floor Carpet is used for making carpets.

Specifications:
CONSTRICTIONS:-FIBRE BONDED NONWOVEN FLOOR CARPET
WEIGHT :- 900 GSM (5% WILL + OR -)
THICKNESS:- 3.5 MM (5% WILL + OR -)

PRIMARY BACKING :- JUTE
BACK COATING :- LATEX
WIDTH:- 10 FEET,6 FEET,5 FEET
ROLL LENTH:- 30 TO 45 RUNNING MTRS
PRODUCT BENEFITS
,NO MILDEW,NO FUNGUS,FAST COLOURS,MAINTENANCE FREE,GOOD ACOUSTIC & THERMAL INSULATION PROPERTIES,DEEP PUNCHED
INSTALLATION
THE FABRIC FLOORING SHOULD BE LAID ON A CLEAN,DRY & EVEN SURFACE TO AVOID UNDUE WEAR. USE AN UNDERLAY IF THE FLOOR IS UNEVEN.
STRECTH IT TI THE LIMIT WHILE LAYING BY USING A KNEEKICKER.
FULL ADHESION OF THE CARPET IS STRONGLY RECOMMENDED.
FOR PROPER JOINTING,OVERLAP THE EAGE OF THE ONE CARPET ROLL OVER THE EAGE OF THE FOLLOWING ROLL AND THEM SPLICE IT.MAKE IT SURE TO USE CARPET ROLLS FROM THE SAME PRODUCTION BATCH IN THE SAME AREA.
CLEANING
THE EXTENT OF THE CLEANING DEPENDS ON THE TYPE OF TRAFFIC. A DAILY VACUUM CLEAN IS STRONGLY RECOMMENDED. IF A VACUUM CLEANER IS NOT AVAIABLE,GIVE ITA BRUSHING UP.